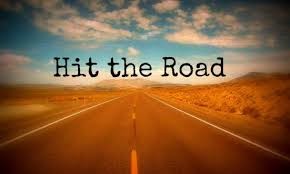 Pre-Trip Driving Tips For Holiday Travels
So you're piling into the car and hitting the road to get to your holiday destination. Unfortunately, so are 90% of other holiday travelers. The biggest travel tip? Travel very early or very late at night because the best way to beat traffic is to hit the road while everyone else is asleep.
Road trips aren't always all they're cracked up to be. Especially if you're planning to cover the average long-distance trip of 250 miles. To power through stick to the major interstates, which are usually the most direct routes through cities. Don't be afraid to skip fast food and hit the grocery store instead. Listen to your favorite radio station, take plenty of breaks to stretch your legs, and most importantly, pull off the road when you get sleepy.
Get Your Car Ready For The Open Road
Check your tire pressure. Treat your tires with care since they're the only part of your vehicles that make contact with the road. Making sure tire pressure is optimal is key to avoiding blowouts.
Make sure oil change isn't needed. Routinely changing the oil improves vehicle and engine longevity and saves you money in the long run.
Keep a clean air filter. A dirty air filter can make it harder to accelerate and can cause a reduction in fuel efficiency.
Keep extra phone chargers in the vehicle. There's nothing worse than a low cell phone battery, especially in the case of an emergency.
Check the weather forecast and road conditions and prepare accordingly. Don't get caught off guard by adverse weather or heavy road traffic and/or construction.
Have emergency equipment on-board just in case. Prepare for the worst by having a tire jack, blanket, booster cables, flashlight and non-perishable food in the vehicle.
Download travel apps. Sunday drives, Waze, Rest area finder, Google maps just to name a few.
Bring your car into any Greulichs Automotive service center for a complementary vehicle inspection today!