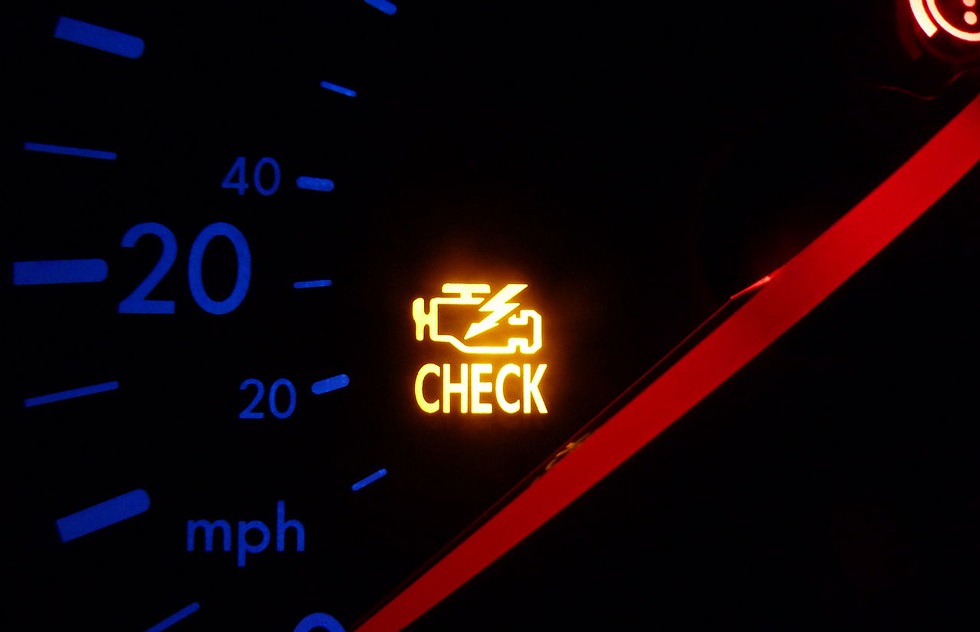 Diagnosing the Dreaded "Check Engine" Light
We have all been there…and it always happens at the most inconvenient time. When the "check engine" light comes on every bad scenario runs through your head. How much will this cost? Can I drive on it? Why now? The truth is the check engine light serves to tell you something is not working as it should…but it is not always the end of the world. Something as simple as a loose gas cap can trigger the check engine light to come on and while you should not panic about the orange beacon, you should get it checked sooner rather than later (because it could also be indicating something serious).
All vehicles have a built-in computer system, called the Engine Control Unit (ECU), that monitors the different components in your vehicle. Today's vehicles can have as many as 50 different computer systems that control elements such as the engine, braking mechanisms, safety features (such as back up cameras and lane departure warnings), tire health, transmission functionality and beyond.
Checking the Check Engine Light
Most auto repair shops will check your ECU for free using a hand-held code reader. Your mechanic will plug the code reader into your vehicle, and it will instantly scan all the systems your car computer manages. If something is not firing correctly, the vehicle computer will display a code on the code reader that corresponds with a major mechanical system. The code reader, while a very handy device, will only tell you what system in your car is having trouble. It does not tell you exactly what the problem with that system is. For instance, the code "P0700" indicates an error within the transmission but it does not tell us whether the gears are malfunctioning or if the vehicle is simply low on transmission fluid. For your mechanic to tell exactly what is wrong requires a deeper inspection and, in some cases, he/she may need to disassemble that area of the vehicle to get to the root of the problem. This can take a few hours to a few days depending on how complex the system is and where the problem lies.
The most common issues that trigger a check engine light are (not in order):
1. Bad Oxygen Sensor
The oxygen sensor detects how rich or lean your engine fuel to air ratio is. The intent of the oxygen sensor is to keep your emissions as low as possible and improve gas mileage. The mixture of fuel to oxygen needs to be a certain ratio for your vehicle to run efficiently. If your oxygen sensor is faulty, it causes your catalytic converter to work harder than it needs to, which leads to needing a new catalytic converter sooner than you otherwise would have. Catalytic converter replacement is typically a very costly service, therefore, keeping your oxygen sensor in good condition will save you money on gas and larger, costly repairs.
2. Faulty Spark Plugs or Wires
The spark plugs within your vehicle are what sends electricity to the ignition components to turn the car on. Essentially, they make your car start and keep it running. Faulty spark plugs or wires will prevent your vehicle from starting and can cause engine failure while driving. Most auto manufacturers recommend changing your spark plugs every 30,000 miles. In order to replace your spark plugs, the parts must be cool, usually requiring the vehicle to be at the shop for at least two hours. A routine vehicle inspection at Greulich's includes checking the health of all the spark plugs and wires, so you do not find yourself stranded with a vehicle that wont start!
3. Loose Gas Cap
Maybe you just got gas and did not tighten your gas cap enough (or forgot to put it back on completely). When you check engine light goes on, this should be the first thing you check.
4. Faulty Alternator
The alternator charges your battery and keeps your car running. If your alternator is going out, you may experience, dimmed headlights or dash lights, your car not starting or stalling out while running. Most alternators will last a long time – about 7 years or 100,000 miles. Alternator replacement usually requires your vehicle to be in the shop for a few hours depending on if the new alternator is locally in stock.
5. Dead Battery
Your vehicle's battery works in conjunction with the alternator to supply power to the car and keep it turned on and running. The battery stores the energy required by the starter to ignite all the mechanical systems in the vehicle when you turn the key. Once the vehicle is running, the alternator supplies continuous energy to the battery based on demand. Most car batteries will last about 3 years depending on many factors including brand, size and climate conditions. Extreme heat such as an Arizona summer, causes batteries to degrade faster. Battery replacement can usually be done within 10-15 minutes.
The check engine light is the lifeline to the inner workings of your vehicle. Just because you do not feel, hear, see or smell a problem, doesn't mean it isn't there. You should always have your check engine light diagnosed by a professional as soon as it goes on. If there is something serious going on, continuing to drive on it can lead to much more costly repairs than if the problem were caught and repaired in the early stages.
Greulich's Automotive Repair has 15 Valley locations and can get you in, read your check engine light, and provide a professional recommendation in under 10 minutes in most cases. You can easily schedule an appointment online, call us or simply walk into any of our locations.