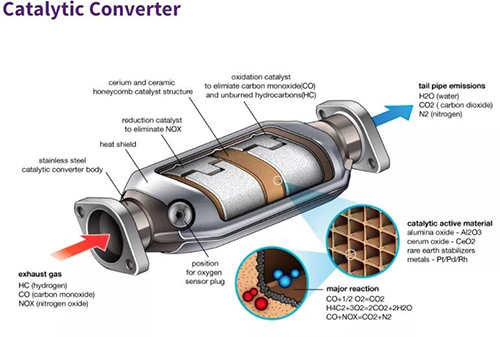 Catalytic Converter Theft, How To help Prevent It From Happening To You, and What To Do If It Does – Greulich's Automotive Repair
What Is a Catalytic Converter?
A catalytic converter is component of the exhaust system in a combustion engine vehicle (basically, any gas vehicle). The catalytic converter turns the toxic gases and pollutants in the vehicle's exhaust into LESS-toxic pollutants. This process significantly reduces the amount harmful emissions a vehicle puts out into in the air. A faulty or missing catalytic converter will result in a failed emissions test, very poor gas mileage, and allows harmful amounts of toxins to be released into the atmosphere (we could go on and on about the repercussions of that, but we won't go into to it here). Basically, the catalytic converter makes a vehicle PRACTICAL, LEGAL and SAFE to drive.
Why Do People Steal Catalytic Converters?
Catalytic converters are made of 3 types of metal – platinum, rhodium, and palladium – all of which are very expensive. Thieves will take catalytic converters to scrap yards and sell them for hundreds of dollars each depending on the size and amount of metal. Thieves can get up to $700 for a single converter. Because catalytic converters are easily accessible on the underside of a vehicle, they are relatively quick and easy to take.
Symptoms of Catalytic Converter Theft
It is very noticeable when a catalytic converter is missing. You'll hear a loud roar when you turn the engine on as well as very loud rumbling when you hit the gas. If you notice this, go the front of your vehicle, usually between the front tires, the catalytic converter is an oval-shaped cylinder with two pipes coming out of each end (see image above). You'll see a gap between the two pipes often with cut or saw marks where the converter should be. If you find yourself in this situation, you should drive straight to your nearest auto repair shop or mechanic. Driving with a missing catalytic converter can cause more expensive damage further up in the exhaust system if not taken care of right away. It can also cause expensive damage to the engine, as your ECU will try to compensate for the higher flow exhaust and cause the engine to not run properly.
How To Help Protect Your Vehicle from Catalytic Theft
Always park in well-lit areas at night
Park inside your garage if you have one.
At home, invest in a video surveillance system or cameras for your driveway, such as Ring or Nest.
When you're out and about at night, park near a building, as there are usually surveillance cameras that deter thieves from targeting vehicles in-sight of the cameras.
Calibrate your vehicle's security alarm to detect vibration (you know…the one that goes off on the 4th of July from the fireworks). This will cause your alarm to go off if the vibration of a saw is detected.
There are security shields you can purchase and attach to your catalytic converter making it harder to steal. These devices go from $100 to $300 on Amazon depending on the vehicle. Make sure to purchase the specific kind for your vehicle. While this may seem expensive, it costs an average of $2,000 to replace a catalytic converter.
Most Common Vehicles Targeted for Catalytic Theft
The Toyota Prius is the #1 vehicle targeted for catalytic converter theft. Being a low-emission vehicle, the catalytic converters contain more of those precious metals that can fetch thieves more money.
Trucks and SUVs are also common targets, as they are typically higher off the ground, which make the converter easier to access and steal.
What to Do if Your Catalytic Converter is Stolen
Contact authorities. Unless you are in danger, hurt or there is a true emergency, try calling the NON-EMERGENCY police line for your city. You can usually find the number by Googleing "non-emergency phone number". You'll want to make sure to get a police report filled in case your insurance company needs it.
Call your insurance company to see if there is anything they can do for you. Some policies cover these kinds of events and may help cover replacement and repair costs.
Head to the mechanic. Any trusted auto repair shop will know exactly what to do for a missing catalytic converter (unfortunately, this is a common issue). If your vehicle is still under warranty, you can take it to the dealership, but most professional independent repair shops can fix your vehicle while keeping the warranty intact, and for a MUCH more affordable cost.
YES, most manufacturer warranties DO allow for you to take your vehicle to an independent repair shop, as long as it is a verified shop. The vehicle manufacturers don't advertise this tid-bit because they want you to go to the dealership service center where repairs are much more costly. If you're curious, check your warranty first to make sure the shop is an approved facility.
Greulich's Automotive Repair has been a trusted repair facility in Arizona since 1977. We have 17 convenient locations in and around Metro Phoenix. If you are ever a victim of catalytic converter theft, our ASE certified Master mechanics know exactly what to do. Unfortunately, we see customers in this situation more than we'd like to (why can't everyone play nice, right?!). We always strive to make the best of an unfortunate situation for our guests. We can provide you with a complimentary Lyft or Uber ride if needed while your vehicle is in our care. Give us a call, easily schedule an appointment online or simply walk into any Greulich's location. We'll be happy to serve you!